Ontario Pride Eggs / Nutri-Oeuf Organic Eggs
Organic Eggs
Certified by HCCP. Certified Organic Canada by Ecocert Canada. Hens are free and live in open air enclosures and natural daylight are fed organically-certified grain.

Omega-3 Eggs
Omega-3 eggs are laid by hens fed on flax seed which is a natural source of Omega-3 fatty acids. Omega-3 fatty acid prevents heart disease and can contribute to the brain development of infants.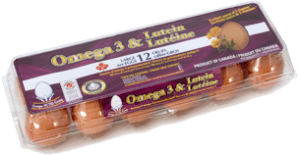 Jumbo Eggs
These eggs are the largest available on the market. They weigh at least 70g.